Affordable, stable housing is a top issue for Coquitlam-Port Coquitlam residents, and indeed British Columbians at large, that's why I'm a member of the Liberal Pacific Housing Caucus. I am working on new solutions to ensure there is affordable housing for every Canadian. 
I've met with hundreds of Coquitlam-Port Coquitlam residents, and I hear you. In recent years, housing speculation by foreign owners has become a major challenge, driving up housing prices for people across the country. Canada is not a place for those who wish to purely speculate in the housing market, and we need a national approach to protect families who are being priced out of buying a first home.
A re-elected Liberal government will:
fully implement the First-Time Home Buyer Incentive, which provides Canadians with up to ten per cent off the purchase price of their first home;

immediately expand the Incentive to provide more help to communities in the greater Toronto, Vancouver, and Victoria regions by allowing homes valued at up to $789K to qualify;

address the impact of foreign speculation, which drives up housing costs, by putting in place a consistent national speculation and vacancy tax for non-resident, non-Canadians. 
Our government created Canada's first-ever National Housing Strategy – a ten-year plan that will help more than 600,000 Canadians find safe and affordable places to live. Over the next decade the National Housing Strategy will fund the construction of nearly 140,000 more housing units. We've also created the new Canada Housing Benefit to help 300,000 Canadians with the high costs of rent.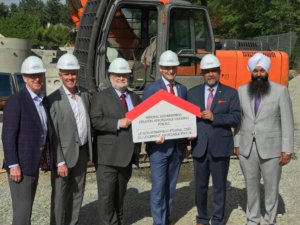 Right here in Coquitlam-Port Coquitlam that means over $2-million invested in creating, renovating and providing subsidies to 585 units. PLUS $1.2-million to renovate The Coquitlam Kinsmen Housing Estate on Pinetree.
In BC alone we've invested more than $660-million in housing, with nearly $1-billion on the way over the next ten years.