I have always embraced my life journey and my transition to becoming a senior has been no exception. Seniors are valuable voices who have worked, and continue to work hard for their families and our community. 
I continually connect with my fellow seniors through the Constituency Seniors' Advisory Council. The Council ensures I have a first-hand understanding of the issues seniors are facing, how the federal government can help, and what we can do better. The Seniors' Advisory council recommended I co-second a national organ donor registry (Bill C-316), and provided a brief to the HUMA report on Advancing Inclusion and Quality of Life for Canadian Seniors.
Since being your Member of Parliament, our government has invested $200,000 in seniors programs and buildings through the New Horizons for Seniors Program. Programs such as Greyhounds Masters Track and Field and Shree Guru Nanak Yog Mission, and funding renos and retrofits at the PoCo Legion, RJ Kent Housing Society and Hawthorne Seniors Centre.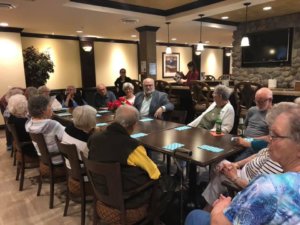 (Catching up with seniors at the Astoria Retirement Residence)
To ensure our seniors have a dignified retirement, we have increased benefits for our seniors by investing in Old Age Security (OAS) Pension, Guaranteed Income Supplement (GIS), Allowances and Canada Pension Plan.
For example, single senior receiving OAS and the Guaranteed Income Supplement (with no other income) may receive $1,728.84 more than in November 2015, which has improved the lives of 900,00 seniors. 
In Coquitlam-Port Coquitlam alone, over 14,000 seniors are receiving an average of $5,960 from their OAS pension and over 5,500 seniors are receiving an average of $7,800 in total GIS allowances. 
Last year I was so happy to host the Minister of Seniors right here in Port Coquitlam, we delivered Valentine's to Veterans living at RJ Kent Seniors Home, and met with the Constituency Seniors' Council.