Promoting inclusion, celebrating progress, and breaking down barriers are values that I hold close to my heart. As a country, we have made great strides in promoting inclusion, particularly for people with disabilities. 
Right here in Coquitlam-Port Coquitlam we've invested in our vets at the PoCo Legion, our seniors at Maplewood Manor, and our community at Port Coquitlam City Hall and the King of Lutheran Church.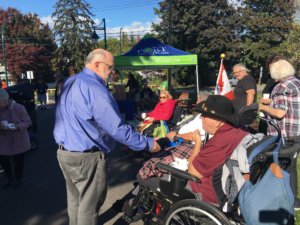 We've put in wheelchair friendly doors, helped fund construction, created safer hallways and built wheelchair ramps to ensure everyone has equal access to our fantastic community.
(Total Enabling Accessibility Fund Investment:$73,375)