Our government has made the SINGLE LARGEST investment in oceans EVER. 
I am so proud of the $1.5 billion Oceans Protection Plan – this single investment and accompanying policies will protect our oceans for generations to come. 
In early September, local company Aqua-Guard Spill Response was awarded a $2,575,720 contract for 37 compact, portable, oleophilic skimmers, which are used to recover spilled oil in both calm waters and the interior spaces of small vessels. That's just one investment that the OPP is making right here in our riding & in ensuring the Coast Guard have the tools and technology they need to respond to coastal incidents.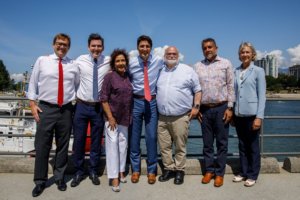 Right here in BC we:
Reopened the Kitsilano Coast Guard Base that was closed by the Harper government. Since reopening in April 2016 the Ktisilano base has dealt with more than 470 Search and Rescue calls and over 150 environmental responses tasks. 

Introduced new, state-of-the-art marine safety systems and mammal avoidance mechanisms to restore and protect marine ecosystems and habitats from shipping-related threats & created a pilot baseline-monitoring program with Indigenous communities to better understand and mitigate the cumulative effects of shipping on sensitive ecosystems.

Formed new Indigenous Community Response Teams to offer training for search and rescue, environmental response, and incident command.

Are increasing marine safety information for mariners and improving hydrography, charting, and e-navigation products in numerous areas, including Victoria, Esquimalt, Nanaimo, Port Renfrew, Port Alberni, Chemainus, and Campbell River.